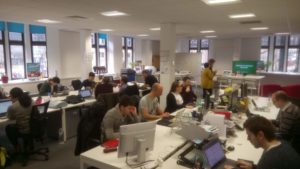 I was at Sheffield's first data for good hack day on Saturday – it was bloomin' Marvelous. Organised by Tom French and Lauren Quinn from Good Things Foundation and Sarah Miller, BI developer at Jet2, we were working with Amy Evans from youth homelessness charity Roundabout. (It's sensitive data so we had to delete it at the end of the day and I'm afraid I can't explain any findings.)
It was the culmination of a number of data-for-good evenings looking at the issue of homelessness. Those bought together a huge range of people with different perspectives: university, charity, council, other public sector and private folks.
On the day itself we only had three to four hours of actual coding time – really not much given how long the most basic data wrangling can take. But Sarah and Lauren had done a superb job prepping and cleaning the data, and I got to have a couple of hours playing with it the night before.
In the end, we got a pretty amazing amount done – mostly quite rudimentary data exploration, but that's the thing: Roundabout collect this data but don't have much capacity to look at it in this way. Aside from anything else, they don't have very much staff time to devote to it. We were able to put in somewhere between five to ten person-days at the hack – one or two week's worth of work.
The results showed quite simple things that Roundabout didn't know – although those would have difficult or impossible without Amy being there to provide her expertise on what the data actually meant.
Random thoughts:
Some relatively simple, purely descriptive data analysis and visualisation can be of enormous benefit to organisations like Roundabout. I saw the same thing during a recent freelance job: another organisation collecting amazing data, but with little capacity to dig into it in any depth. That job also included some deeper statistics work, but – as with Roundabout – visualising data transpired to be eye-opening for them. This is good news for data-for-good hacks: it means we can actually do useful things quite quickly.

Being able to show those things may make all the difference in winning funding applications. So organisations being able to understand and present their own data isn't some incidental extra, nice if you can get it – it can be vital.

It's made me mull what else could be done, how the Sheffield data for good work might evolve. I feel like Roundabout could benefit from some more sustained attention to their data. This is entirely speculative right now, it may not be practical, but I can imagine helping to develop a pipeline that would let them look at their own data in a way that's more empowering for them.

Relatedly, that raises the question of… hmm, can't think of a better phrase than building capacity. The drive behind initiatives like Data for Good are often framed like this: third sector and charity organisations collecting large amounts of data, often for reporting they're required to do, but they don't have time, money or skills to analyse. That framing, though, can sound a little like those organisations have a deficit that data experts can fill – it's actually more of an equal partnership. As I say – we couldn't have got very far with our work without Amy providing her expertise on what the data meant. Not just a shallow take on variables' meaning (though we needed that too!) but what the actual ground truth behind the data is.

So somewhere in the collaboration of everyone involved, I wonder if there's scope for empowering organisations to grapple with their own data, at the same time as data bods like me learn about how those organisations work. It'd be great if that happened as openly as possible – techie people still need to earn a living, but I'm a strong believer in work flowing from openness and collaboration, not possessiveness. And, possibly, it's only through that kind of openness that places with low capacity for data work can really get to tap into its power.
So it feels like there's a huge amount to learn. I'm pretty new to this use of my data skills. I get the sense that there are some really easy wins that could put more power into the hands of organisations themselves. Quite what that might look like, I don't know, but it'd be good to talk about it.